Reigning books of the Years.
These are just based on my views.
2011-2012 (or maybe longer)
Even just by now, it`s totally one of the best and popular.
Hunger Games Trilogy by Suzanne Collins.
2009-2010
Percy Jackson and The Olympians by Rick Riordan. (I love being a demigod)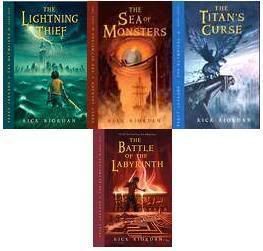 2008-2009 (or maybe until now, whatever)
Twilight Saga by Stephanie Meyer.
2007-2008 (or whatever year it all started. I wasn`t really a fan)
Harry Potter by J.K. Rowling.
I read all those books above, except Harry Potter. Hunger Games is incredibly awesome.
Percy Jackson and the Olympians is ah-mazing.
Twilight is unbelievable.
Then I don`t know about Harry Potter.
And I think 39 Clues will be on the list, since the last book is released already. 39 Clues is great, really. Especially if you love codes.
And then, another popular vampire book that`s very addicting--Vampire Academy besides Vampire Diaries. (It`s not the same)
--- Liliane Sinworth ---
Labels: 39 clues, harry potter, PJO, the hunger games, twilight, vampire academy, vampire diaries
Older Post | Newer Post